| | | |
| --- | --- | --- |
| | Very Early Yaesu Musen Co. Amateur Radio Equipment | |
By the 1965 Yaesu had developed its F-Line as a complete SSB ham radio station. It included the FR-100B amateur band receiver, the SP-100 matching speaker, the FL-100B or FL-200B transmitters as well as the FL-1000 1Kw linear amplifier.


The top photo shows Yaesu Musen's complete F Line. The photo forms part of a QSL card that Yaesu Musen made available to hams who were using their equipment. The two photos directly above give a closer look at Yaesu Musen's F-Line FR-100B Receiver and FL-200BTransmitter. The transmitter shown here has the later type black knobs wit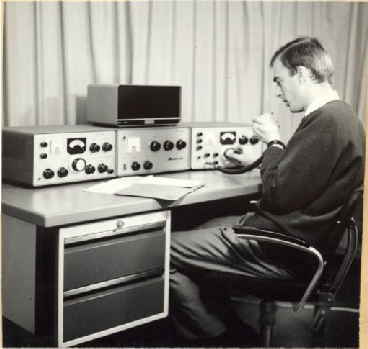 h silver inserts.
At this time Yaesu also sold an FL-20B, which was just a powered down version of the FL-200B. The FL-20B was aimed at the Japanese novice market and as such was never sold in Australia.
Perhaps not as attractive as the Collins mechanical filter based S-Line SSB equipment of the same period, Yaesu Musen's F-Line was never the less still quite attractive in its own right, performed extremely well and cost considerably less.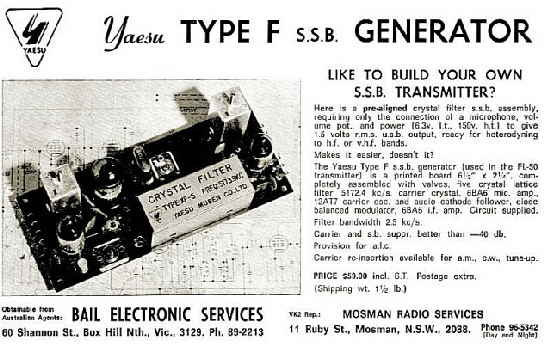 In late 1965 Yaesu Musen Co. released a Single Sideband generator board aimed at the home constructor. Known as the Type F SSB Generator, it was based on one of their new 5 Mhz 5 pole crystal filters that would ultimately replace mechanical filter use in their later radios.
With a Type F SSB Generator, all a home constructor had to do was add audio, mixing circuitry and a power amplifier in order to go SSB on his or her favourite amateur band. Released at about the same time, the FL-50 crystal controlled transmitter also used a Type F SSB Generator at its heart.
Bail Electronic Services received their first shipment of FL/FV-50's transmitters and VFO's in August 1966. Their first shipment of FR-50 receivers arrived in April 1967. A copy of an Australian Amateur Radio magazine reveiw on the FL-50 along with some photos can be found here.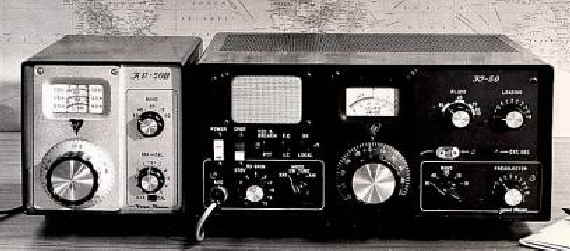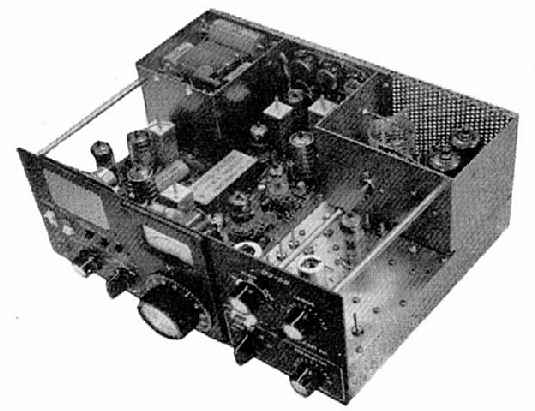 The FT-50 was Yaesu Musen Co's second transceiver, released in late 1967 it was designed as a basic entry level radio with a peak input power of 100 watts (their first transceiver was the virtually all solid state FT-100released in late 1966). The FT-50 transceiver sold for $380 (1967 Australian dollars) against the FL-50 for $225.
The FT-50 used Yaesu's 5 Mhz crystal Filter, was crystal controlled (with a VXO [variable crystal oscillator]), had a built-in AC power supply and was of single conversion design. It was all valve in construction, but had a matching solid state VFO, the FV-50B (a later version of the FV-50 with the addition of an RFA [Receiver frequency Adjust] control), which allowed freedom from the restrictions of crystal control. In looks it closely matched Yaesu's FL-50 and FR-50 valve transmitter and receiver of late 1966. The model DC-50 mobile power supply was available to allow 12 volt DC operation of the FT-50 using its in-built AC mains power transformer.. The top photo, showing both the FV-50B and FT-50, was taken in February 1968 by Victorian photographer Alan Elliott for Bail Electronic Services.
Below is a Block Diagram for the FT-50.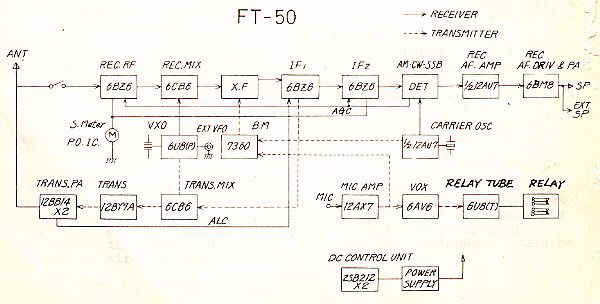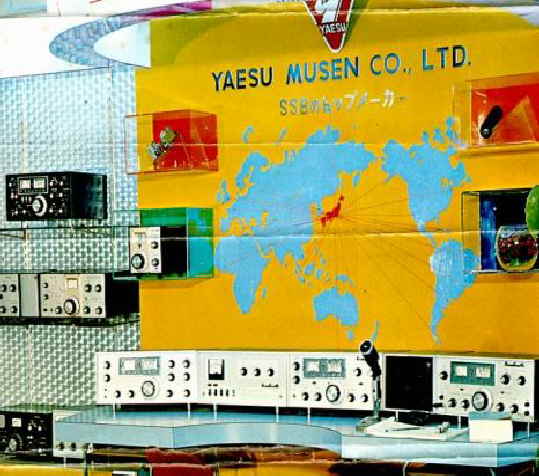 As this Yaesu poster shows, by 1967 Yaesu Musen Co. had considerably expanded its product range. Pictured from top left are: a Type F SSB Generator, FF30DX Low Pass Filter, FTdx-100 Transceiver, FV-50B VFO, FR-50B (partially hidden) Receiver, SP-50 Speaker, FL-50B Transmitter, FRdx-400 Receiver, FL-2000 Linear Amplifier, FLdx-400 Transmitter, SP-400 Speaker, FTdx-400 Transceiver, FT-50 Transceiver and (partially hidden) an FTV-650 6 metre transverter.