| | | |
| --- | --- | --- |
| | Very Early Yaesu Musen Co. Amateur Radio Equipment | |
Shown below is part of the circuit diagram of one of Sako Hasegawa's first Yaesu Musen Co. products (the very first was in fact the model FL-10/40 *), a 5 band crystal controlled 40 watt input HF SSB transmitter he called the FL-20.
The partial FL-20 circuit above shows a 6BQ6 in the PA stage while the block diagram below indicates a 6DQ6 tube was used. Although the block diagram was copied from an FL-20 advertising brochure, the author suspects that "6DQ6" is a typographical error. The FL-100 did however use the heavier duty 6DQ5 in its PA.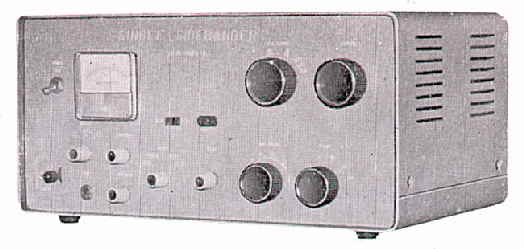 The photo above depicts a Mark II version of the FL-20, 20 watt output HF, 5 band crystal controlled mechanical filter SSB transmitter. This is the same as the first Yaesu Musen Co. transmitter to be brought to Australia by Fred Bail, VK3YS, for his personal use, in 1963.
Shown above is an extract from an FL-20 advertising brochure giving general technical specifications of this early Yaesu transmitter.
From the same FL-20 advertising brochure are, above, a drawing of the front panel layout and, below, a drawing of the internal component layout. Note that unlike all later Yaesu valve equipment, which used solid state rectifiers, the FL-20 still used a valve rectifier (5U4GB) in it power supply.

By the mid 1960's Yaesu Musen Co. had its F-Line on the market which, at that time, consisted of the FR-100B receiver, FL-200B transmitter and FL-1000 linear amplifier. Also, aimed mainly at the Japanese novice operator, was a powered down version of the FL-200B, the FL-20B. Shown at left, it used just one PA valve with much reduced voltage on it's plate to provide 10 watts PEP output power.
* The FL-10/40 was a monoband 40 metre 10 watt mechanical filter SSB transmitter, Yaesu Musen Co's first product.